This top bar appears on every page of the website and is also what's known as a 'sticky' header, meaning it will follow you down the page as you scroll so it always remains in view.

From left-to-right, here you'll find:
Site Logo – Besides the font used for the text, our logo has remained unchanged since we first launched back in 2016. The distinctive, slightly tilted polaroid with a blue butterfly is an easy way to identify us and our community.
Search Bar – Any words or phrases you enter here will search the entire website and return live results relevant to your search. Clicking the magnifying glass icon will take you to Search Results page.
The SEARCH RESULTS page can be filtered down further to find the exact content you're looking for.
Note: On mobile and tablet, this element is moved to the MAIN MENU and is a standard search box which must be submitted rather than a live version.
Next to the Search bar we have the Header Stats. These are represented by relevant icons, which reveal boxes of content when clicked. Click a different icon to change the content in the box or click the same icon again to close the box.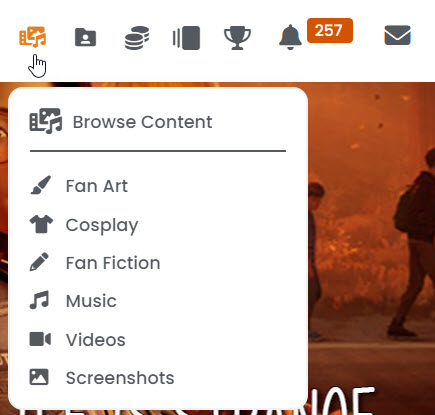 Browse Content – This shows links to the archive pages for the 6 main content types on Life Is Strange Fans: Fan Art, Cosplay, Fan Fiction, Music, Videos and Screenshots. Simply click the name of the content type to head to the corresponding archive page.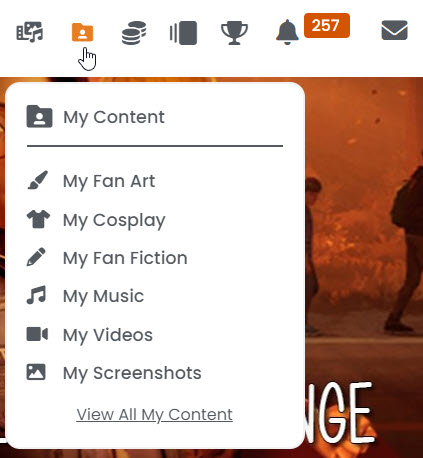 My Content – This has links to your own posts in the 6 main content types, where you can search and filter them, get stats related to them and add new posts of that type. The links include: My Fan Art, My Cosplay, My Fan Fiction, My Music, My Videos and My Screenshots. Simply click the name of the content type to head to the corresponding content page in your Dashboard.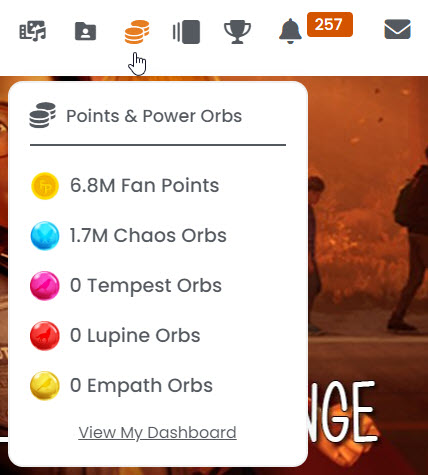 Points & Power Orbs – Here is where you'll find your current balance of Fan Points and the 4 different Power Orbs. To save on space, the amounts here are an abbreviated version of your points, rounded up or down to the nearest figure. For example, if you currently have 50,599 Fan Points, it will display here as 50.6K Fan Points. To see an exact figure for your Fan Points or Power Orbs, just head to MY DASHBOARD when logged in.
Note: On mobile and tablet, the points values are moved to the MAIN MENU.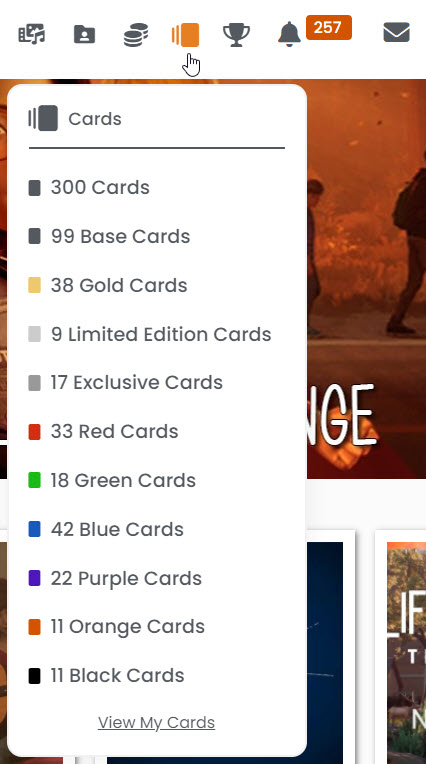 Cards – This lists the amount of CARDS you currently own in all Card types, along with a card icon in the relevant color. The figures shown here do not include any duplicates of these Cards you might own. To see counts for your owned Cards including duplicates and broken down for each Card type, click 'View My Cards' to go straight there.
Note: On mobile and tablet, this element is moved to the MAIN MENU and, to save space, only shows 1 amount – the amount of ALL your Cards (excluding duplicates).
Notifications – Next to a bell icon, you'll see a number within an offset orange box, showing how many Unread Notifications you currently have.

If you don't have any Unread Notifications, no number will appear. If you do have some, clicking either the bell or the number will prompt a box to slide in from the right, which will show you up to 10 of your latest Unread Notifications.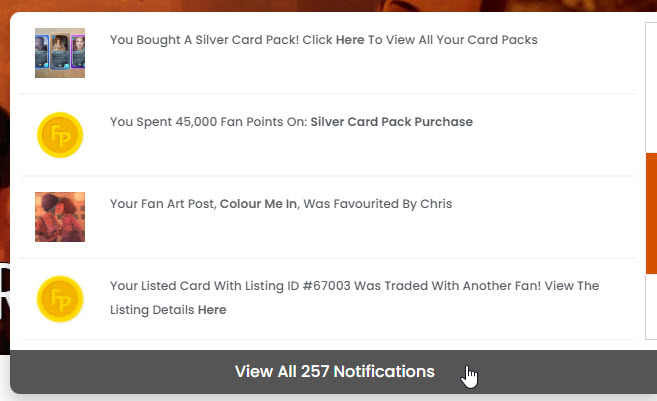 A bar which is also a button at the bottom of the Notifications box will show you the total number of Notifications if you have more than 10. Clicking this button will take you to the full NOTIFICATIONS page, where you'll be able to either mark them as Read or Delete them.
Main Menu – As described in Navigating The Website, this is where you'll find all the main links you'll need to get around the website. Some items will either be unique to you, or will be visible/not visible depending on whether you're logged in or using the website on desktop, mobile or tablet. Simply click the 'hamburger' icon or the word 'MENU' to prompt the menu to slide in from the right. To close the menu, either click the X icon or click anywhere outside the menu.