Giveaways, also known as Prize Draws, are one type of contest on Life Is Strange Fans. Unlike Creative Contests, Giveaways do not require any creative talent to enter. You just fill out a form providing basic contact details and select which prizes you'd like to win. Winners are drawn randomly some time after a closing date and you'll be notified if you win anything. Simple!
Giveaway Announcements
Giveaways are announced on our social channels, but there will also be sitewide notification popups on the day and shortly after launching.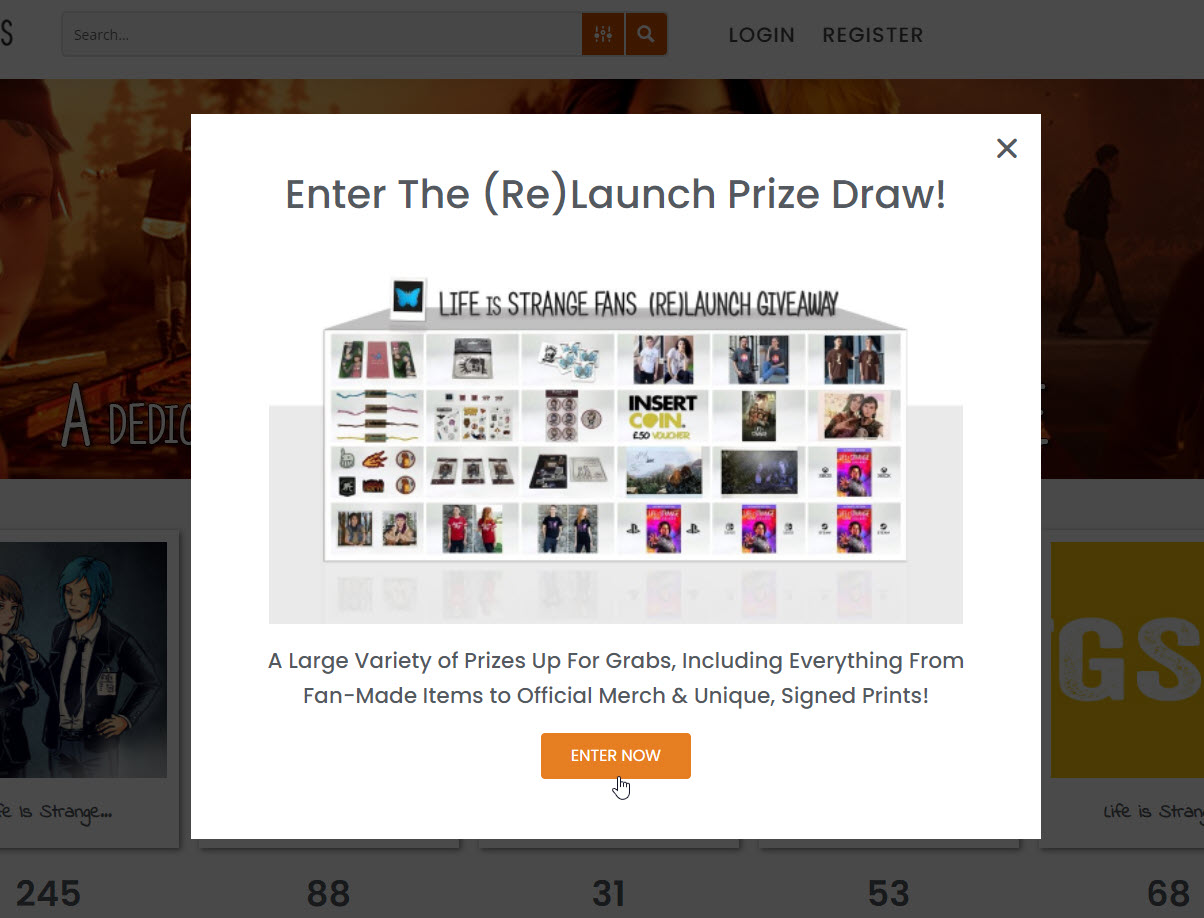 Make sure you're Following us on our social channels as we may tease prizes or announce when the Giveaway is launching some time before it actually launches.
The Giveaway Page & Prize Pages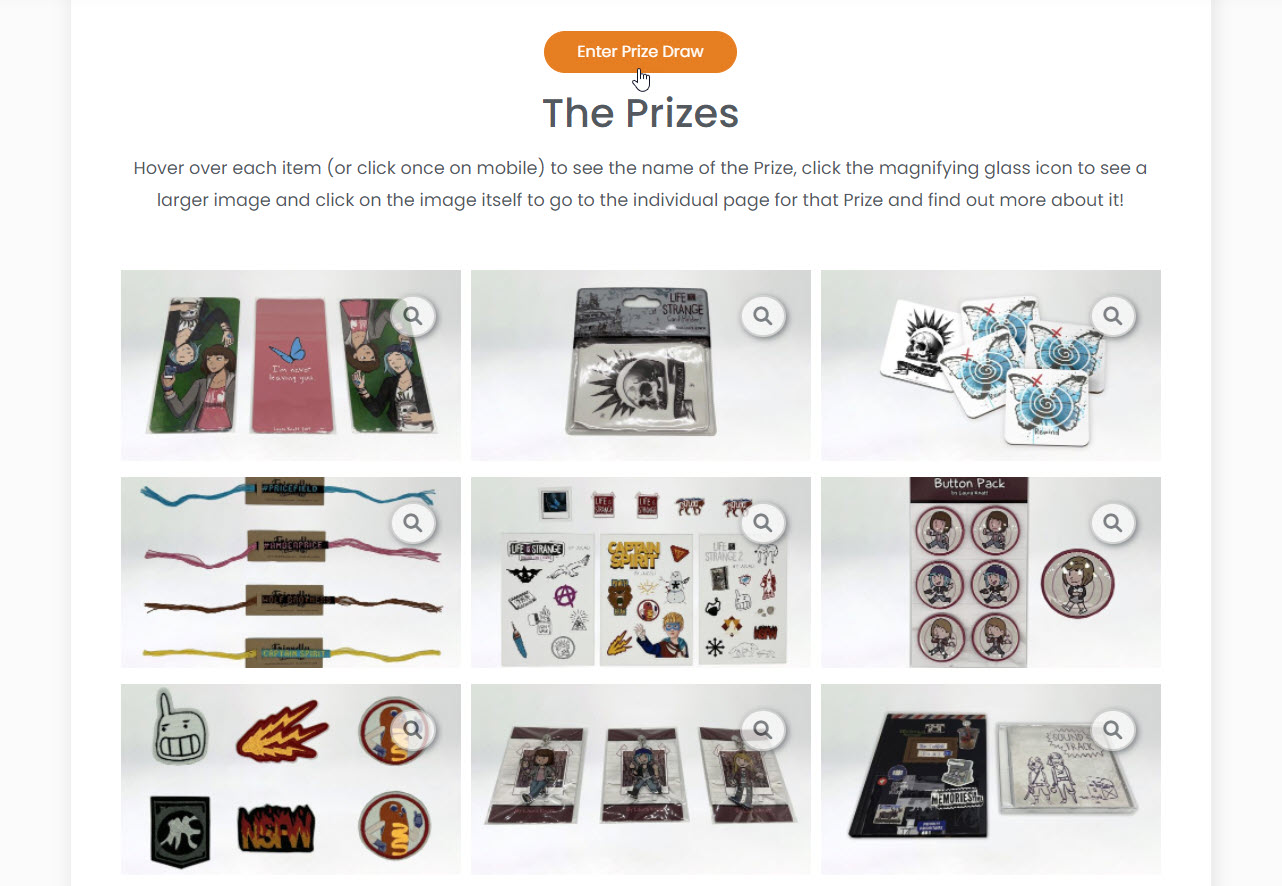 On the Giveaway's main page, you'll see details about the Giveaway including the Rules and a listing grid of Prizes. Click the image of each Prize to learn more about them.
Prizes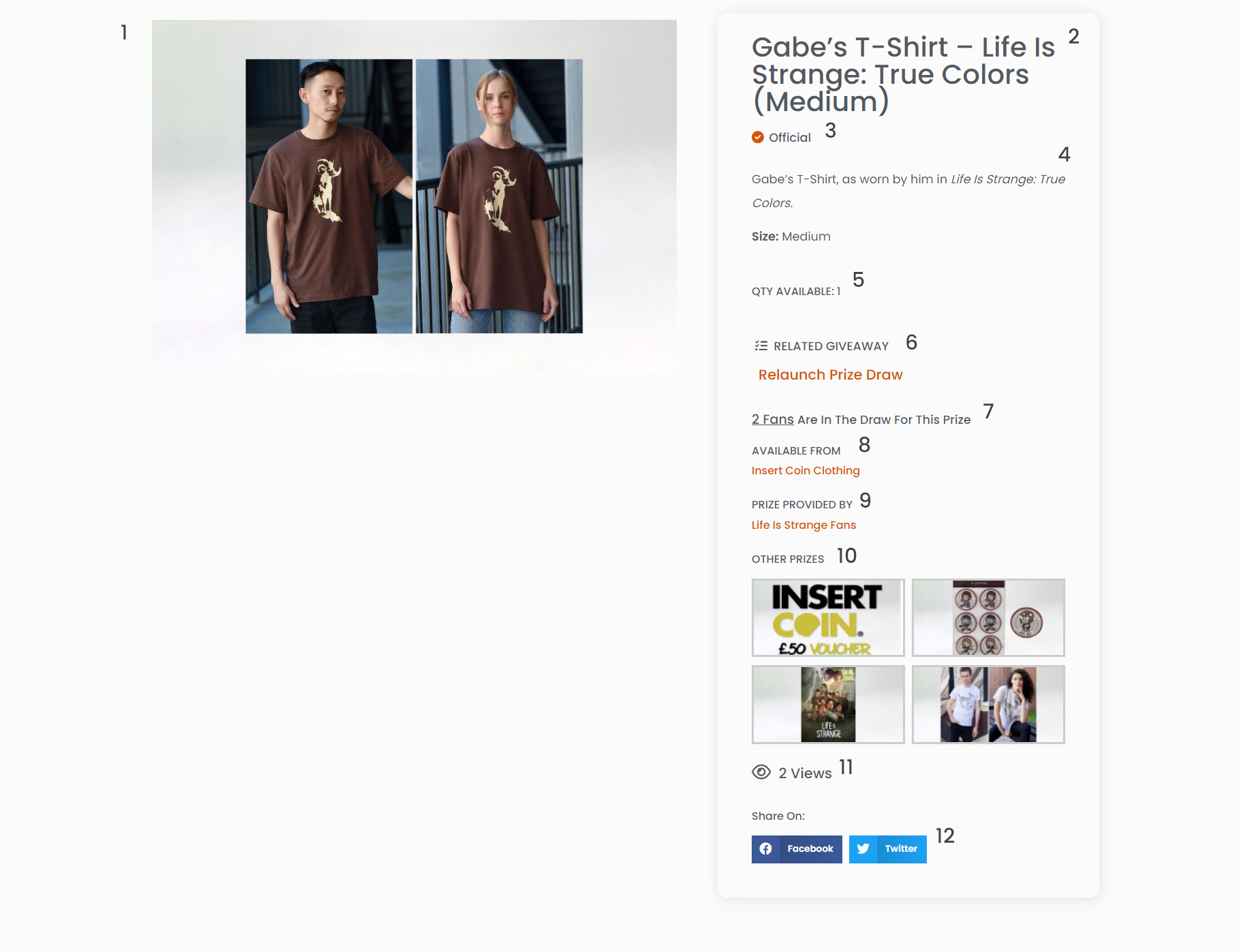 Here's a breakdown of a Prize's single page:
1) Prize Image – This is the main image of the Prize. Click the image to open up a  larger version for a closer look.
2) Prize Name – This is the name of the Prize.
3) Official or Fan-Made – This highlights whether the Prize is Official merch or Fan-Made.
4) Prize Description – This is a brief description of the Prize.
5) Quantity Available – This shows how many of the Prize is available in the Giveaway.
6) Related Giveaway – This shows the name of the Giveaway this Prize is included in. Click the name to jump directly to the Giveaway's main page.
7) Fans In The Draw For This Prize – This shows a count of how many other Fans have selected this Prize in their Giveaway Entries and are therefore in the running to win it. You can click the count to open a modal which lists those Fans.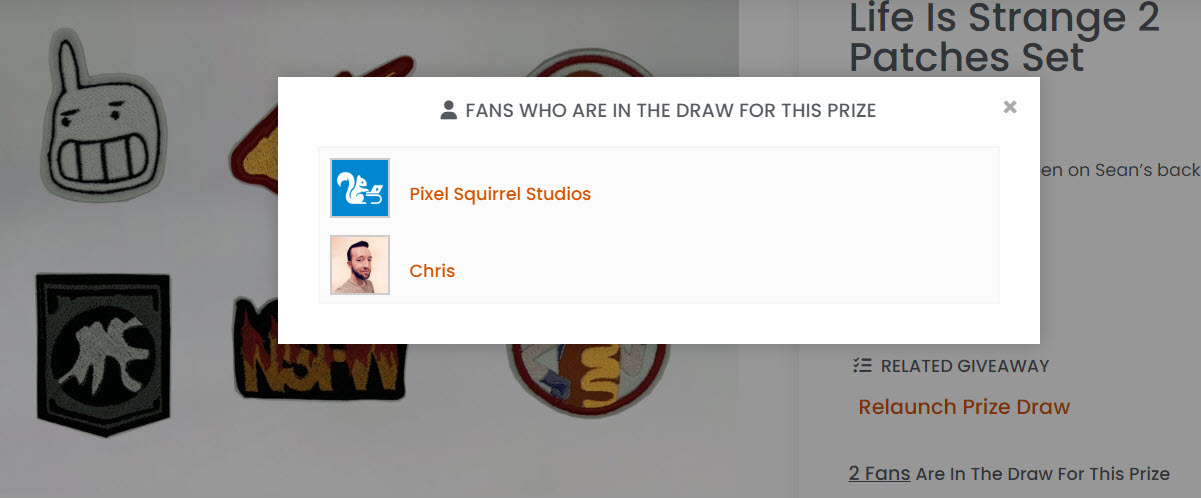 8) Available From/Made By – If the Prize is also available to buy, the 'Available From' section will show. If the item is still on sale, the name will also be clickable and will link to the item on the relevant external site. If the item is discontinued, there will be no link.
If the item is Fan-Made, the 'Made By' section will show and the person it was made by will be listed.

9) Prize Provided By – This shows who the Prize was provided by; it might be companies related to the games, such as Square Enix, Dontnod Entertainment or Deck Nine Games, or it could be other Fans who donated Prizes to be used in the Giveaway.
10) Other Prizes – This will show 4 other Prizes included in the same Prize Draw. The query is randomised so that 4 different items are shown on each page load.
11) Views Count – This shows the total number of Views the Prize has received from all users.
12) Social Share Buttons – You can click either the Facebook or Twitter buttons to share this Prize on that social network.
The Giveaway Entry Form
On the Giveaway's main page, if the Giveaway is still open, you'll see a button to open the entry form in a modal.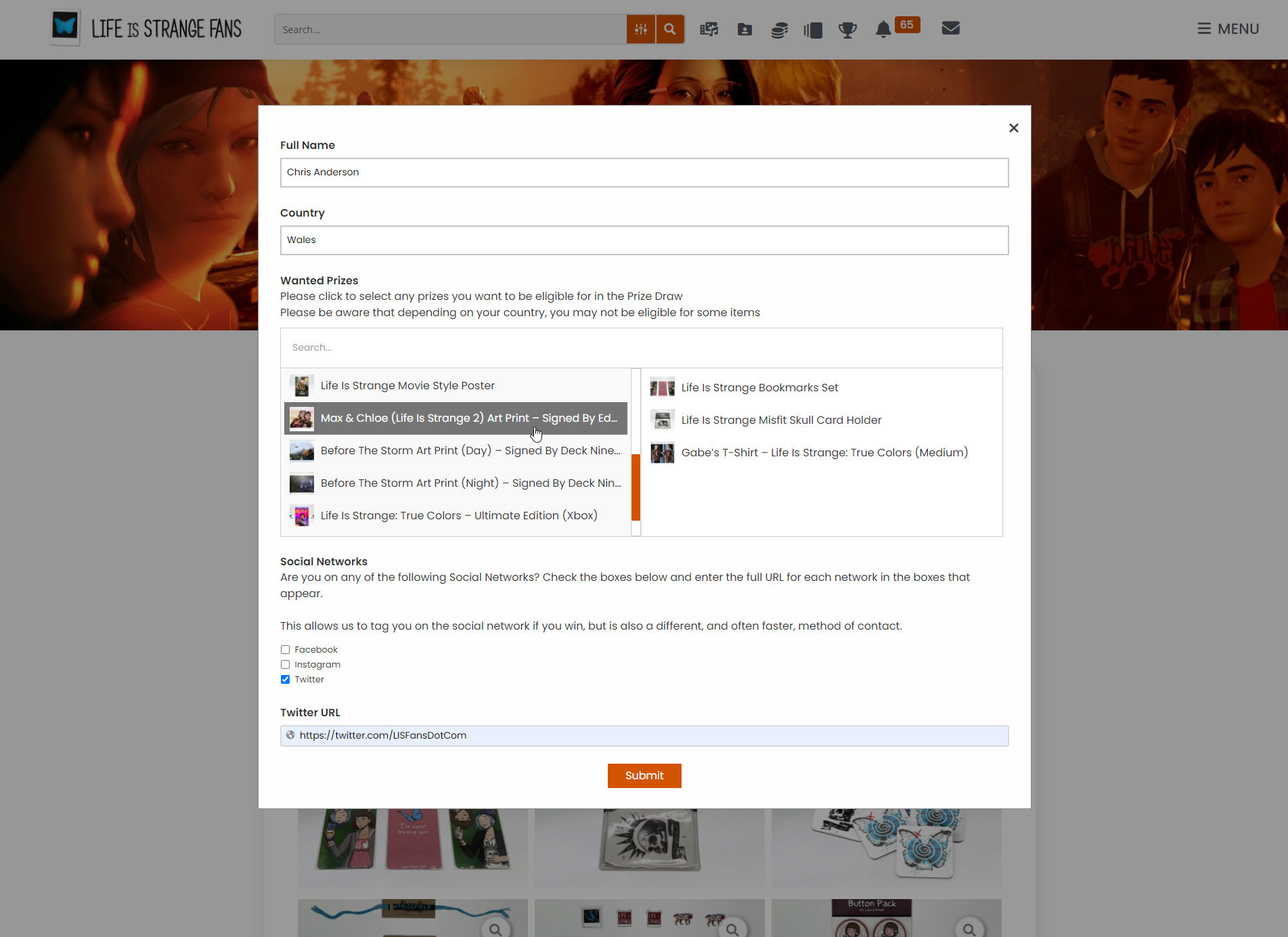 Full Name – Enter your full name here. Please be aware that a full name is required if you win any prizes that need to be physically shipped to you. We will only contact you for a delivery address if you win anything that requires shipping.
Country – Enter your Country here. This is required as there are some items that are trickier to ship to certain destinations. If we believe shipping a certain item to your country might pose a problem, we may redraw for that prize. Please only enter for prizes you're sure will have no trouble reaching you.
Wanted Prizes – The box on the left will list all the Prizes available to win in this particular Prize Draw. Simply click each item you would like to win and it will be added to the box on the right. If you want to remove any Prizes, hover over the item in the box on the right and click the minus icon that appears to remove it.
Social Networks – For each Social Network box you check, a URL field will appear below. Make sure to enter the full URL (including https:// etc.) here and not just your @ Username on the network for example. This is helpful for us as an alternative (and often quicker) method of contact if you win anything. We can also tag you on any relevant social networks so you can be instantly notified.
Submit – Finally, once you've filled in all relevant fields, click the Submit button to submit your entry. You will receive an email with details of your Entry: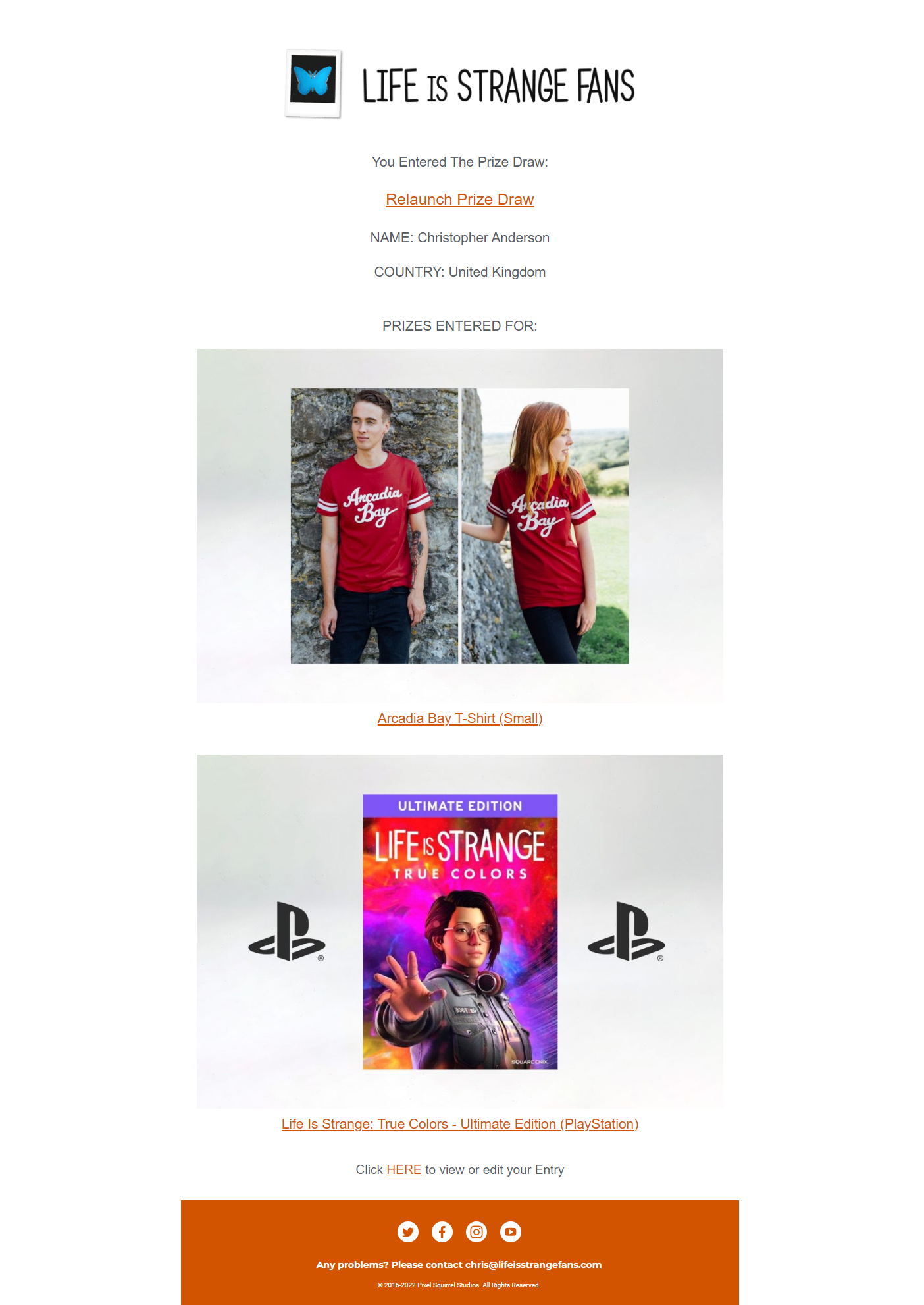 Immediately after submitting the Entry Form, you will also be redirected to your Giveaway Entries page on your Dashboard.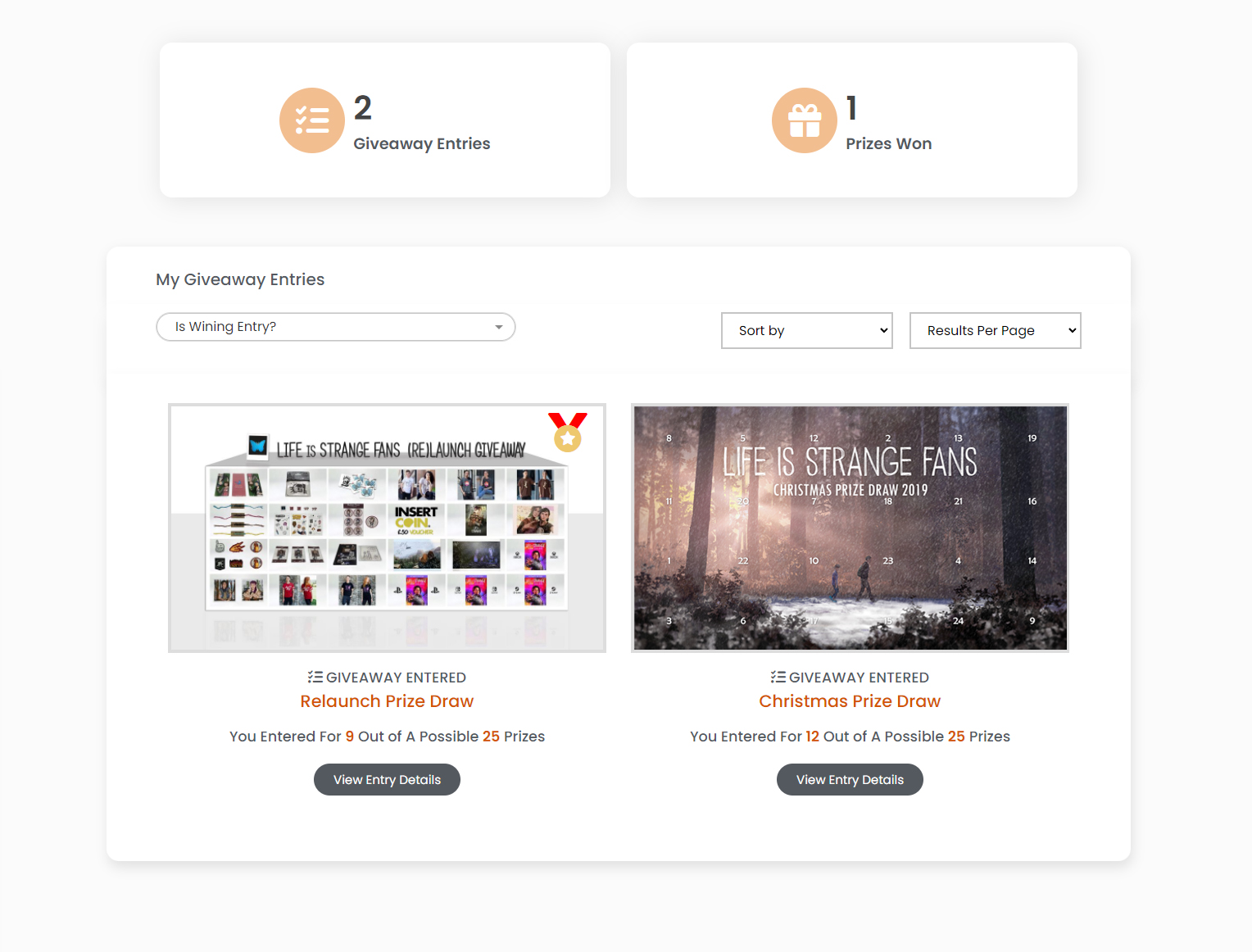 Any Giveaway entries you have will be listed here. Each entry will show the name and featured image of the Giveaway it relates to, how many Prizes you entered for, and a button which links to the single Giveaway entry page where you'll find more details.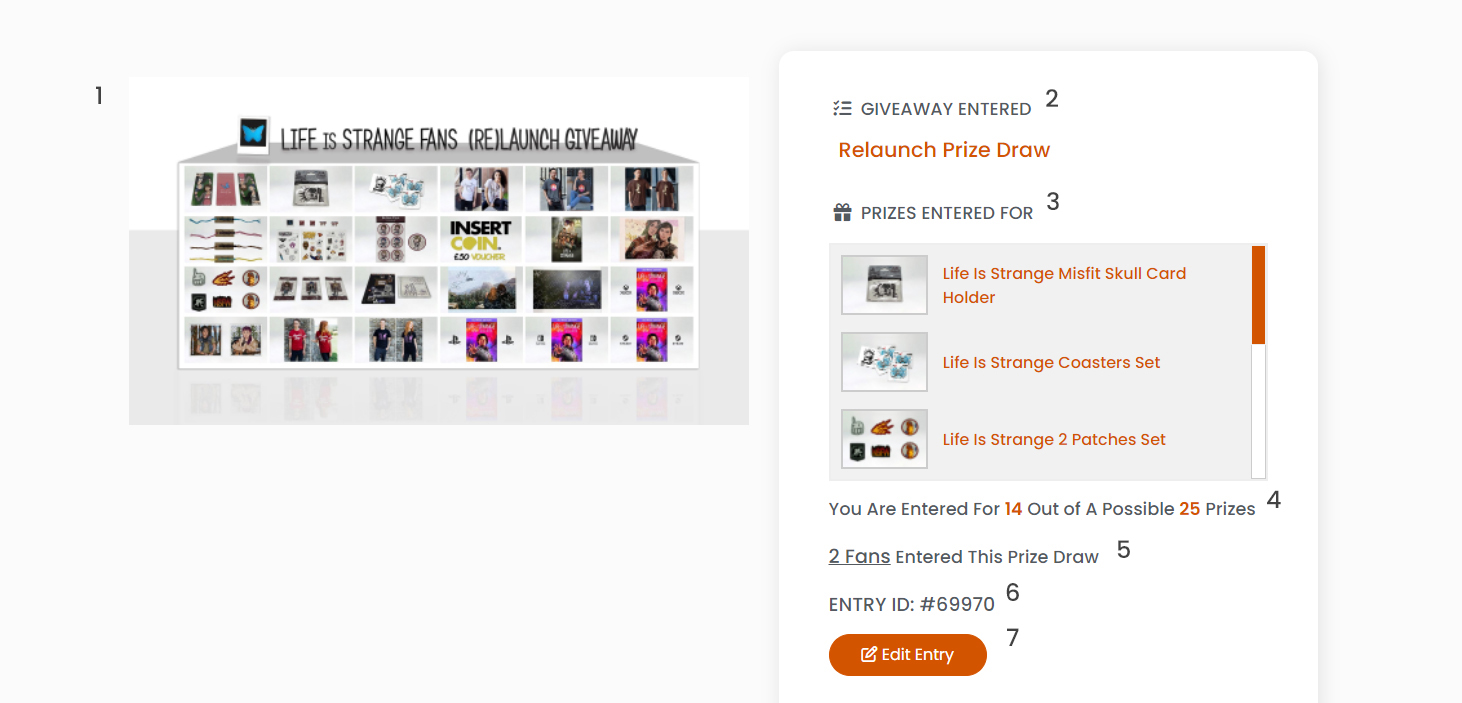 Here's a breakdown of a Giveaway Entry post:
1) Giveaway Image – This is the image of the Giveaway that this Giveaway Entry relates to.
2) Giveaway Name/Link – This shows the name of the Giveaway that this Giveaway Entry relates to. Clicking the name will take you directly to the page for that Giveaway.
3) Prizes Entered For – This lists the Prizes you entered for, showing the Image and Title of each Prize. Clicking either the Image or the Title will take you to that Prize's single page.
4) Prizes Count – This shows how many Prizes you entered for in this Giveaway, out of the total number of Prizes available.
5) Fans Who Entered This Prize Draw – This shows a count of how many Fans in total have entered the same Prize Draw. Clicking the count will open up a modal, listing those Fans.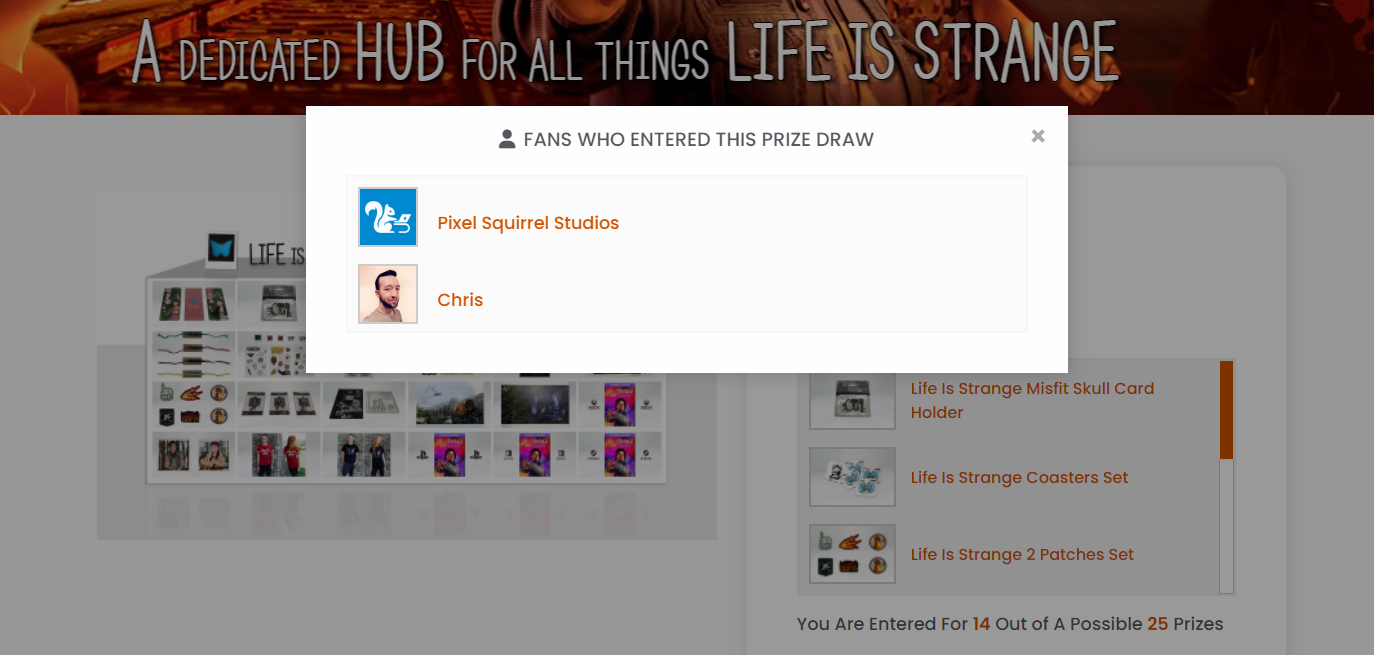 6) Entry ID: This show a unique ID number of your Giveaway Entry. You should refer to this number when dealing with any enquiries about your Entry.
7) Edit Entry Button – Click this button to open a modal and Edit your entry directly from the same page. You can alter your contact details or add/remove any Prizes from your Wanted Prizes selection. This is also how you would put yourself in the draw for any new Prizes that are added to the draw after the initial launch.
Sometime after the Giveaway closes, as well as being notified if you win anything via social media or email, your Giveaway Entry will also be updated by an Admin to mark it as a Winning Entry. A medal icon, along with the message 'This Is A Winning Entry!' will appear below the link to the related Prize Draw.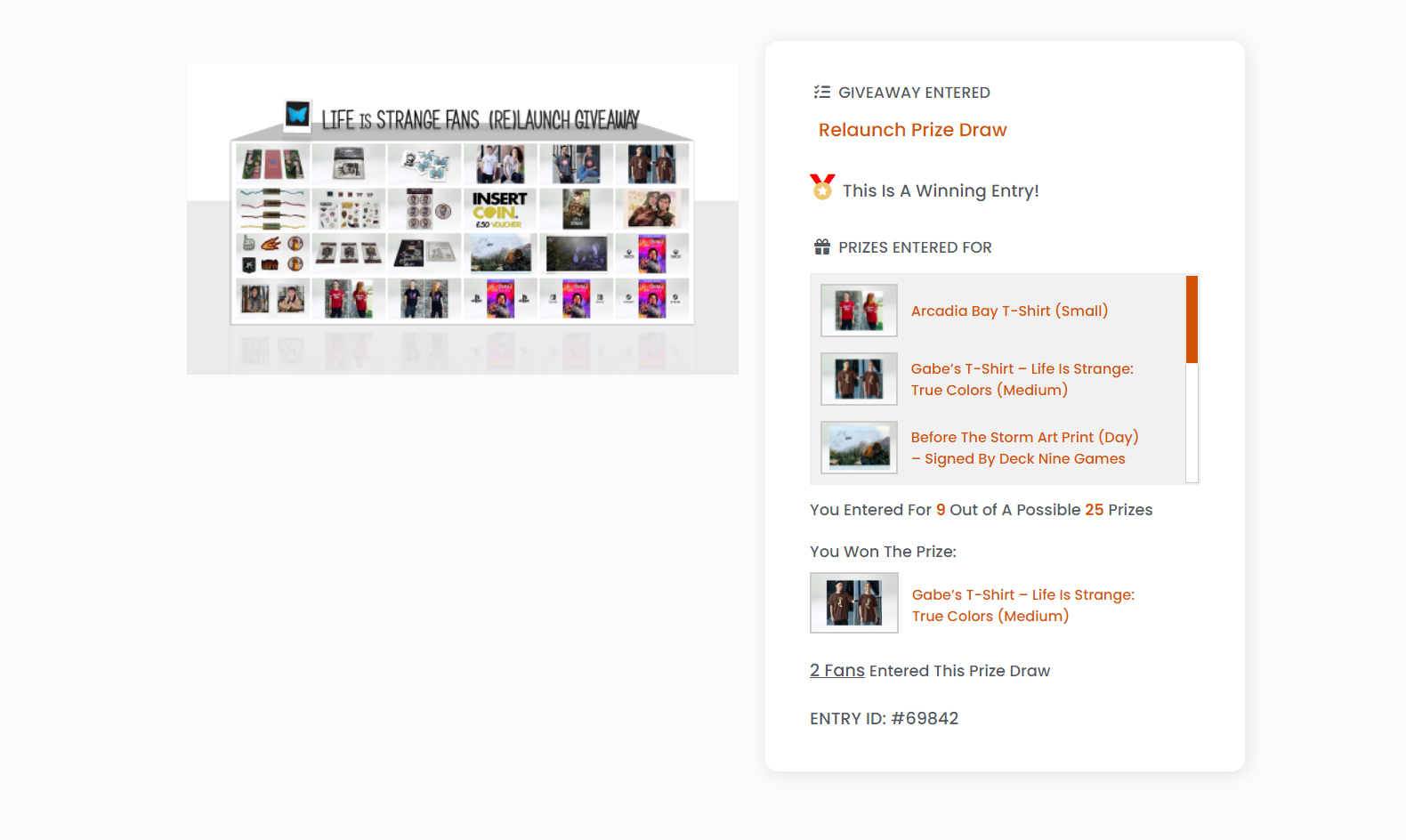 Below the count of Prizes you entered for, if you win a Prize, you'll also now see the message 'You Won The Prize:' along with the image and title of the Prize you won.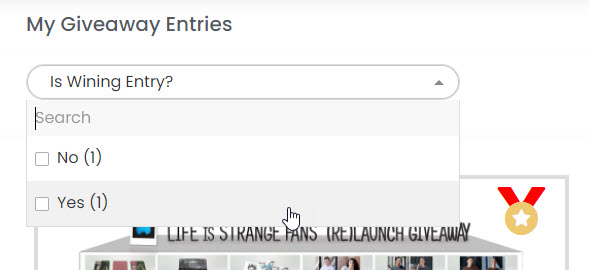 From your Giveaway Entries Page on your Dashboard, you'll be able to use a dropdown filter to filter Entries between Winning entries and Non-Winning Entries.