Gold Cards can be earned in Gold Card Packs. However, you can also convert Base Cards to Gold Cards if you collect duplicates of a Base Card and reach the Max Available limit (usually 5 Cards).
On each Base Card single page, you'll see your progress to Gold. As well as a link to the related Gold Card, you'll also see a message notifying you how many more Base Cards you need to get your first Gold version, along with a gold progress bar: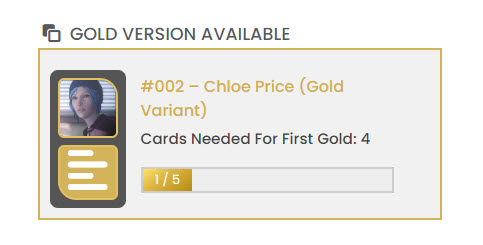 On the Gold Card's page, you'll see a similar section, but with an orange progress bar and a link back to the Base version of the Card: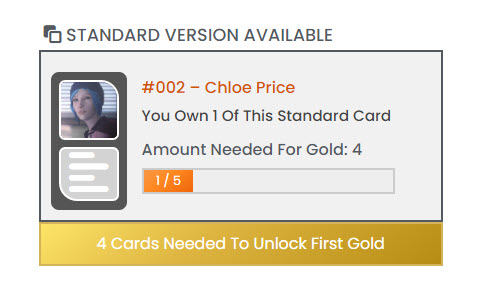 Once you collect enough Base Cards, the gold progress bar will be full and a Convert To Gold button will appear:
Click the button to open a modal: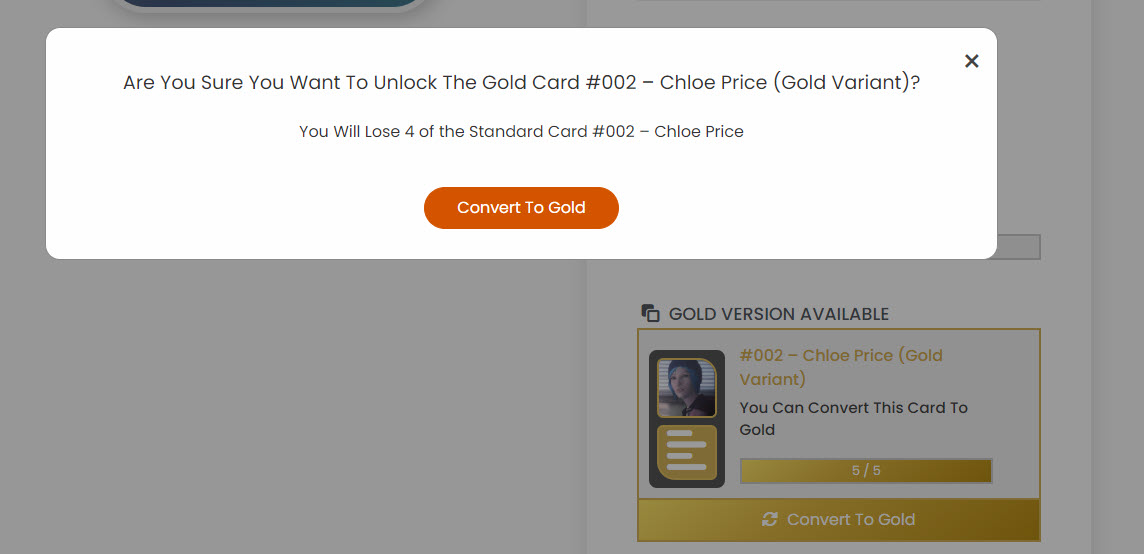 You'll be asked to confirm your intent to proceed with the conversion process, with a message informing you that you will lose all but 1 of the Base version of the Card. Click the 'Convert To Gold' button to complete the conversion.
The page will refresh and the Gold Card will be unlocked. You'll receive an email and on-site Notification linking you to the Gold Card Conversion post for more details.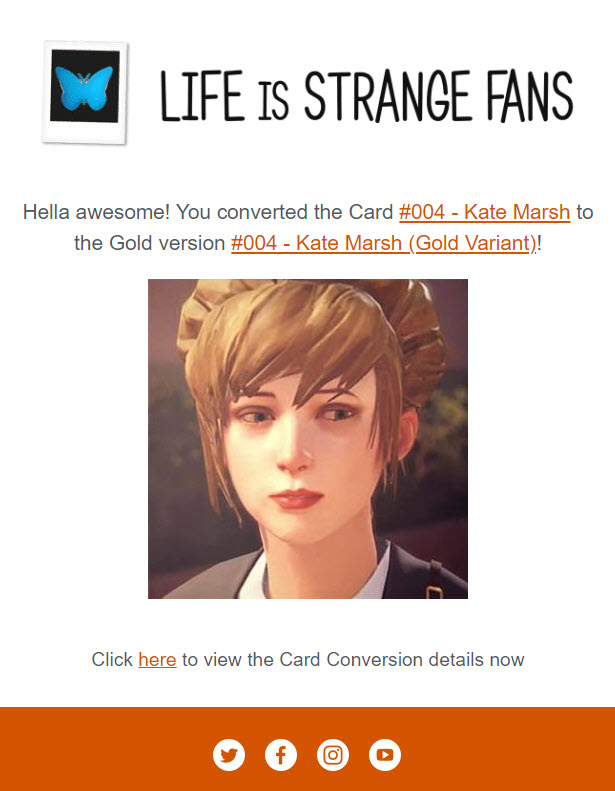 If you already own 1 Gold version of this Card, you'll see a slightly different message, notifying you of your progress to your next Gold: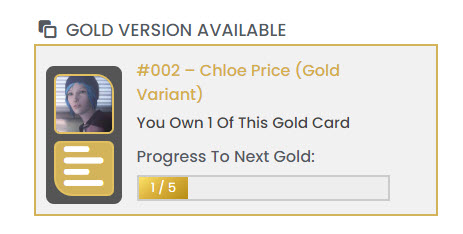 As before, there's also a variation on the related Base Card's single page:
And finally, if you already own the Max Available number of Gold Cards, you'll see the following message: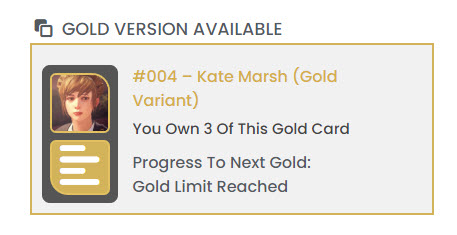 Assuming you are able to complete the Gold Conversion, you can view all your Gold Conversions from your My Gold Conversions page on your Dashboard.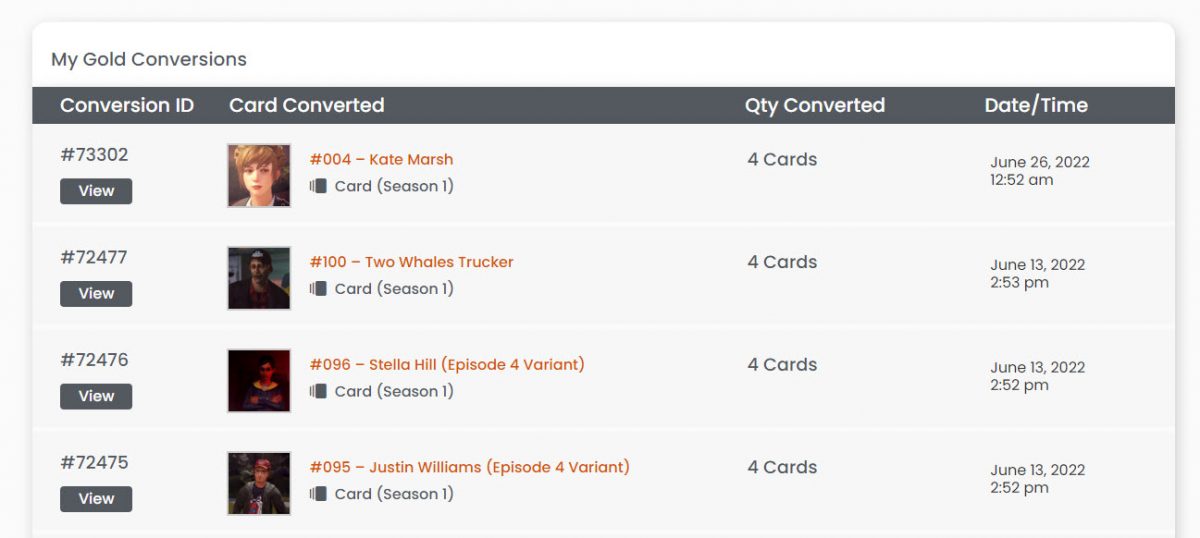 Click the View button to jump to a single Gold Card Conversion post: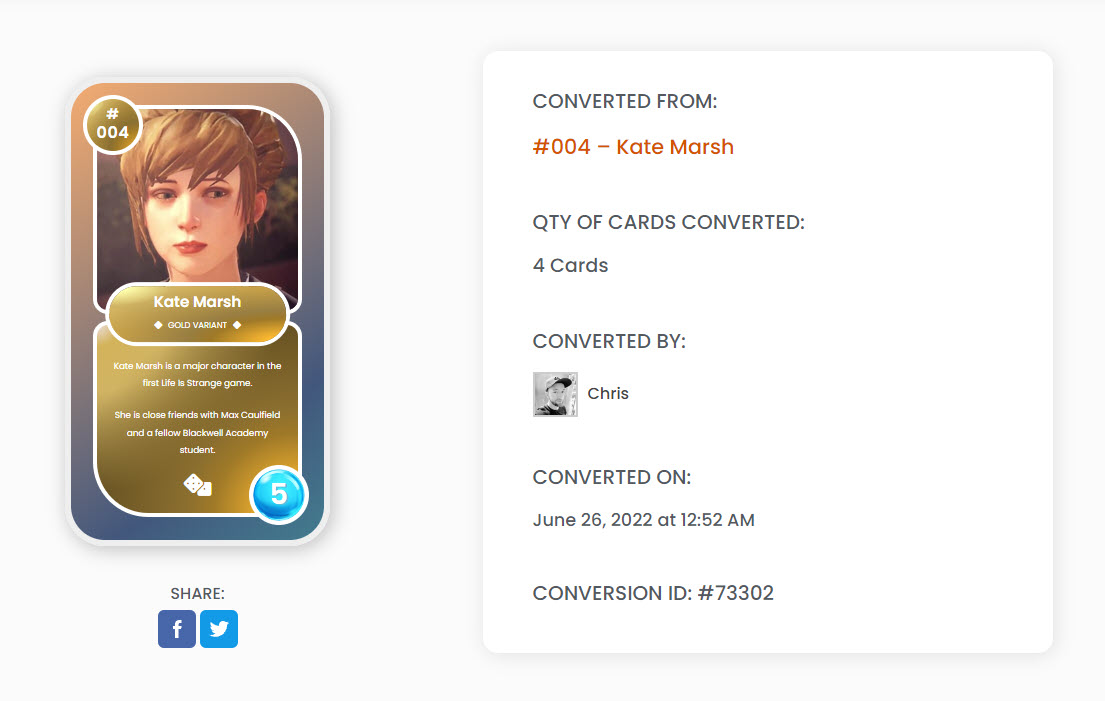 As you can see, it will contain basic details about the Card that was converted, the quantity of Base Cards scarified, as well as who completed the conversion. Here's a breakdown of the Gold Conversion page:
Gold Card Image – This shows the main image of the Gold Card that was converted.
Converted From – This is the title of the Base Card that was used to convert into the Gold Card.
Qty of Cards Converted – This shows the number of Base Cards that were sacrificed in order to complete the conversion to a Gold version (usually 4).
Converted By – This shows who the Card was converted by, with their avatar and name shown, linking to their profile.
Converted On: This shows the date and time of the conversion.
Conversion ID – This is a unique ID number and should be used as a reference when contacting an Admin relating to this particular Gold Conversion.