© 2016 - 2023 Pixel Squirrel Studios Ltd.
LIFE IS STRANGE © 2015-2021 Square Enix Ltd. All rights reserved. Developed by Dontnod Entertainment. LIFE IS STRANGE, LIFE IS STRANGE 2, LIFE IS STRANGE: TRUE COLORS, SQUARE ENIX and the SQUARE ENIX logo are registered trademarks or trademarks of the Square Enix group of companies. DECK NINE and DECK NINE GAMES are registered trademarks of Idol Minds, LLC. DONTNOD and DONTNOD Entertainment are registered trademarks of DONTNOD Entertainment, S.A. All other trademarks are the property of their respective owners.
About Our Cookies
We use cookies on our website to give you the most relevant experience by remembering your preferences and repeat visits. By clicking "Accept", you consent to the use of ALL the cookies as part of our overall
Privacy Policy
Read our
Cookie Policy
Privacy Overview
This website uses cookies to improve your experience while you navigate through the website. Out of these, the cookies that are categorized as necessary are stored on your browser as they are essential for the working of basic functionalities of the website. We also use third-party cookies that help us analyze and understand how you use this website. These cookies will be stored in your browser only with your consent. You also have the option to opt-out of these cookies. But note that opting out of some of these cookies may affect your browsing experience.
Introducing The Pride Collection!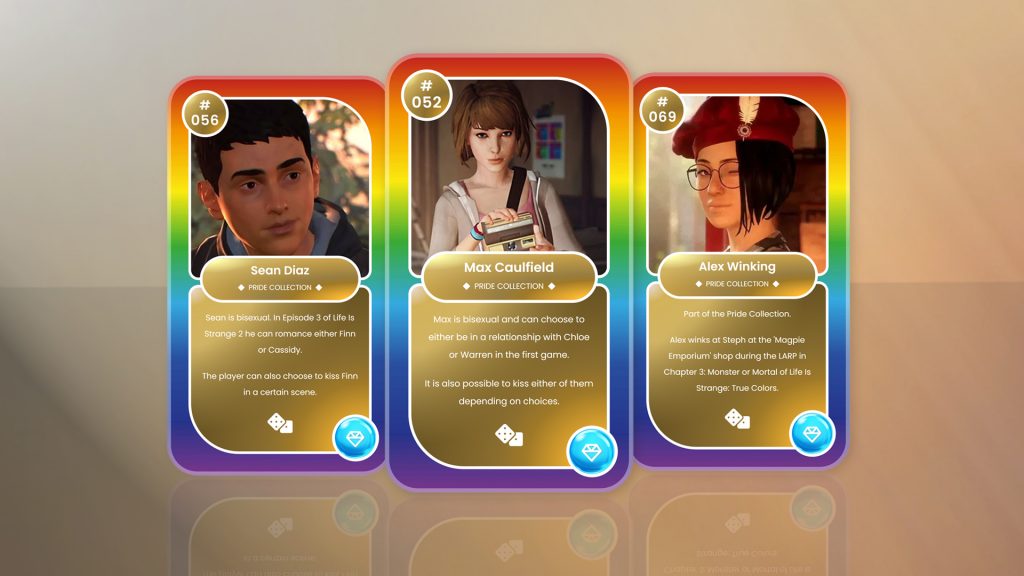 To celebrate Pride Month, these special Cards are now available in Limited Edition Card Packs. With rainbow background, gold elements AND including 5 rare Motion Cards!
Become a Superfan and join our Patreon today to increase your chances of receiving Pride Cards in the Limited Edition Packs!